Joyce Chiang
I'm a calligrapher and the jewelry designer behind the collection The Love Collect.
I grew up in an extremely tight-knit family, consisting of 3 generations of love, so I've always been hyperaware of relationships and why it's important to upkeep your closest connections.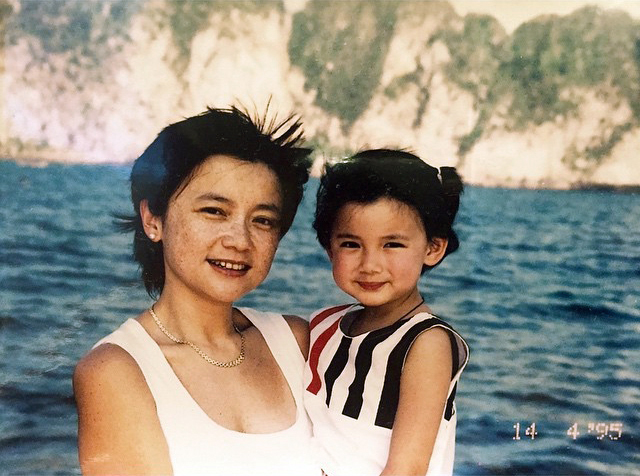 "She has the biggest, most generous heart —an absolute softie."
My mom is my role model and I love seeing myself as her mini-me. She has the biggest, most generous heart —an absolute softie whose most defining trait is her selflessness and high sense of compassion. She has been my mentor in all aspects of my life, and we have a special mother-daughter bond where we finish each other's thoughts, and she understands me like no other.
I can't use words to describe the depth of my mom's care and love for me, but I feel it through every morning kiss, through her lectures in the car, and my favorite dishes she cooks for me for dinner. She's incredibly hardworking and has so much strength in her character, two qualities I greatly admire and hope to emulate. My mother has set such a solid example for me of what a woman can be - a force to reckon with at the workplace, an amazing daughter to her parents, a devoted wife to her husband, and an exceptional mom to her children.
one special memory...
10 years worth of HAIR ACCESSORIES
"This is mom's box of treasures -- I am now passing them to you."
When I was in high school, I was really into wearing hair accessories. I would go out with my friends and buy these cheap and poorly made headbands to wear. One day I came home to a box with a sticky note on it, with the following message: "Your precious gift from mommy. This is my lifetime collection. Enjoy & take good care of it." They were a huge boxful of Alexandre Zouari hair accessories my mom collected during her 30s and 40s that I knew very well.
I grew up watching her wear these beautiful handcrafted pieces day in day out. I remember walking into her room as a child, admiring these pieces of art, and asking her to try them on me like I was playing dress up. This seemingly small moment moved me so much. It was so much more than a just a gift, it embodied the love that exists between us. She passed her beloved treasure to me, and I will forever be grateful. And whenever she shares with me the things she loves, I feel the same. This is my inspiration behind the collection of initial bracelets - to create a personalized gift that can signify the beautiful nature of our most intimate relationships.
more about Joyce
There is a great contrast in what I do from day to day, and I would say it's because I'm exploring and transitioning between my background as an architect, and my passion to be an artist. Some days, I'll be buried in tons of paper with my beautiful brass calligraphy pen in hand, obsessing over stationery details. Other days, I am navigating complex digital softwares with an old-school wired mouse, prototyping futuristic and organic geometries with my 3D resin printer, re-envisioning everyday products with a sculptural twist. I'm a dreamer, and I am enjoying the creative journey I'm on everyday.
You can find me here: joyce@joycechiang.co; IG: @joycechiang_; FB: @joycechiangx